Tradition of Success: Yellow Jackets Men's Basketball Continues Successful Stretch
Winning doesn't come easy. However, with 100 wins in the past five years, head coach Josh Merkel and senior point guard Buzz Anthony have Randolph-Macon's men's basketball team chasing a national championship once again.
Currently ranked No. 1 in the nation in Division III basketball, the Yellow Jackets have an impressive resume so far. They have defeated a 13th-ranked Emory squad as well as the third-ranked Marietta team. Their lone loss of the season came to Christopher Newport, who is now ranked inside the top ten in the latest D3hoops.com poll, a website that ranks the Top-25 D3 basketball teams each week. This loss came one day after defeating #24, New Jersey City, 78-58 at the CNU Classic.
Merkel isn't too worried about the loss, as he believes that failure is necessary to learn from mistakes and become more successful.
"We had a whole freshman and sophomore class that hadn't ever felt the pain of losing before. I think losing can really create change and how you move forward," said Merkel.
Since that loss, the Yellow Jackets have won nine straight with an average margin of victory of 23.2 points.
When looking at the talented roster of the Yellow Jackets, it's hard to miss Buzz Anthony. He currently leads the team in points-per-game (PPG) and minutes-per-game (MPG) at 19.1 and 34.6 respectively.
During his five years on the team, his patience has grown the most.
"When I was younger, all I wanted to do was practice, compete, and play in games," said Anthony.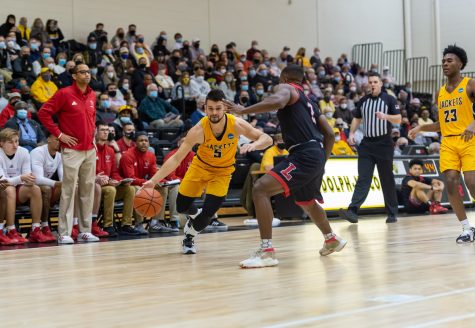 As he has grown older, his mindset has grown with him.
"Today's important and we need to build, but we want these young guys to keep getting better. We just got to play our best basketball in February and March," said Anthony.
Merkel even compared Anthony to Tom Brady as he's skilled in many different areas.
"He's an ultra-competitor, he's a basketball guy, and he's a winner; he competes to win at everything," said Merkel.
In college basketball, there are few constants as players come and go every four years. Although, for the R-MC men's basketball team, sustained success is one of the constants that few basketball programs in the country can pride themselves on.
When speaking to coach Merkel, his attention to detail and love for the game stood out. He mentioned many great players, coaches, and programs, and how he applies the ideology and style into the program at R-MC.
Since 1956, there have been just five head coaches in the program. Coach Merkel calls this the "Randolph-Macon tradition."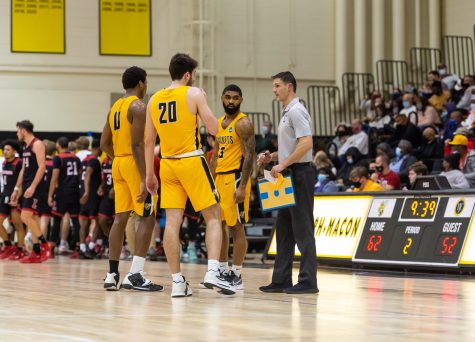 Merkel also highlights that there has never been just one player who stands out. The Yellow Jackets truly work as a team, utilizing every player's skills.
"It's never been about one player. We have some great players including Buzz Anthony, Miles Mallory, and Josh Talbert just to name a few. Randolph-Macon just attracts winners and people who want to grow as players," said Merkel.
After advancing to the Sweet 16 in the 2019-20 season, the rest of the NCAA tournament was canceled due to the pandemic. As for last year, the tournament was not scheduled at all, leaving the Yellow Jackets wondering when they will get the shot of hoisting a national championship trophy.
"Only one team gets to win their last game. It was weird because the past two years we have ended our season with a win but there was no tournament," Anthony said.
Since that 2019-20 season, the team has a record of 27-1 while averaging 77.2 PPG with hopes of making an NCAA tournament run in March.
Coach Merkel closed by saying, "At this point, rankings don't matter. What matters is advancing and playing for a national championship."