R-MC equestrians go to William and Mary's IHSA show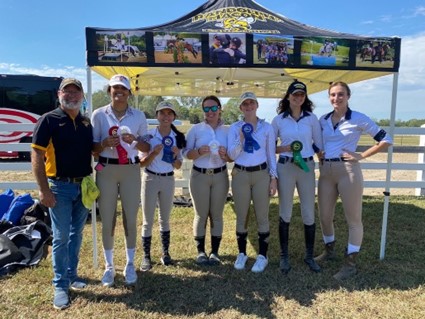 On Saturday, September 25, 2022, nine members of the Yellow Jacket Intercollegiate Horse Show Association (IHSA) varsity team loaded into a van driven by their coach, John West, and made their way to Toano, Virginia for the first Intercollegiate Horse Show of the season, hosted by William & Mary.
Randolph-Macon students took turns showing in their respective divisions on their assigned horses and all contributing toward the team's strong third-place award to open the season. Each member of the weekend's competition team had strong rides with Kate Hudson '23 and Grace Bakeman '24 taking home first place in their respective classes, and the team welcomed Austin Skeens '23 back for his first Hunt Seat show after years of training and competing in eventing.
As dictated by the IHSA, at the start of the show season, each rider completes a placement form to determine their showing division and at each show, riders are assigned a horse provided by the host college. In IHSA, riders often have never ridden the horse that they are assigned, and no warm-up rounds are permitted in which riders and horses can get acquainted. Instead, the riders are tested on their horsemanship and ability to adapt to their horse during a judged ride. Rather than relying on individual time and financial commitment to provide personal horses, IHSA allows student equestrians of all levels to learn, ride, and compete as a part of their collegiate experience in a welcoming environment with well-educated school-provided horses.
Although the next planned IHSA show, hosted by the University of Richmond, has been delayed due to Hurricane Ian, Randolph-Macon is eager to host the next competition at the school-owned Equestrian Center at the end of Homecoming Weekend on Sunday, October 16, 2022.