Eventing Team Loch Moy Competition
Rather than going home for Fall Break, the Randolph-Macon Eventing team were awake at 5 a.m. heading north to the Maryland Horse Trials at Loch Moy Farm to compete in five different divisions in a competitive environment off-property. All seven riders completed all three phases and learned alongside each other with the guidance of Randolph-Macon's new eventing coach, Craig Barr, and the support of the Director of the Equestrian Program, Dana Lesesne.
In the world of eventing, riders and horses are tested on both stamina and skill with three phases, dressage, show jumping, and cross country. In the dressage phase, horses and riders perform a specific pattern, almost like a gymnastics routine, to demonstrate their ability to work as a pair and to perform structured movements.
During show jumping, horse and rider pairs enter the arena with the goal to go fast and jump cleanly (clearly), without knocking down any poles. Each division jumps at a different height based on experience, but overall, the goal is to not hit any poles or have the horse refuse any jumps all within the allotted time allowed.
In cross country, horses and riders are challenged to again, go fast and go clear, but this time on varied terrain and over solid jumps. Rather than a set of plastic or wooden poles set on jump standards, riders face logs, wooden tabletops, ditches, and water obstacles among many other variations. With all three elements combined, eventing is truly a test of bravery, skill, and partnership between horse and rider.
Throughout the school year, all members of the eventing team will continue to train and compete in various divisions, with the next large team event at the Virginia Horse Trials in Lexington taking place Nov. 4 through 6 for the Intercollegiate Team Challenge.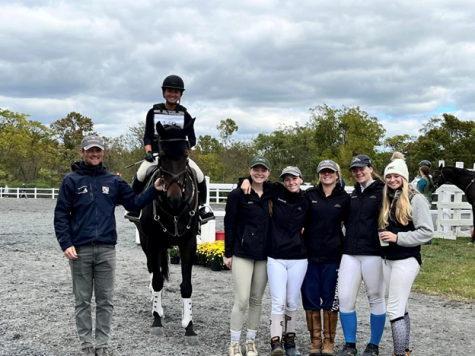 Results:
Hannah Brandt and Fernhill Emerald – 9th place in Beginner Novice A
Etta Meade Jernigan and Be the Light – 9th place in Novice B
Becca Wenner and Undisputed Champ – 6th place in Novice B
Emma Anderson and Marcel the Shell – 2nd in Novice B
Elena Labrador and Zen Zara – 4th in Novice A
Abby McGowan and Mystic Serenade – 11th in Training
Charlotte Farris and Isobel's Hero – 5th in Modified
Jump Heights:
Modified: 3'5"
Training: 3'3"
Novice: 2'11"
Beginner Novice: 2'7"