How Randolph-Macon Rates Their Professors

Rate My Professors is one of the oldest websites to still run at such a high level. First created in 1999, Rate My Professors has only grown and expanded, now holding more than 19 million ratings, 1.7 million professors, and over 7,500 schools as stated on their website. What influence does such a site hold on a small campus community like Randolph-Macon?
Nearly every student I have spoken with at R-MC uses Rate My Professors to get an idea of what the professors and classes they are taking will be like. Professors can greatly impact the way students interact and engage with a course, so finding sources to figure out who will give them the best experience is important, especially since paying for a college education is expensive and time-consuming.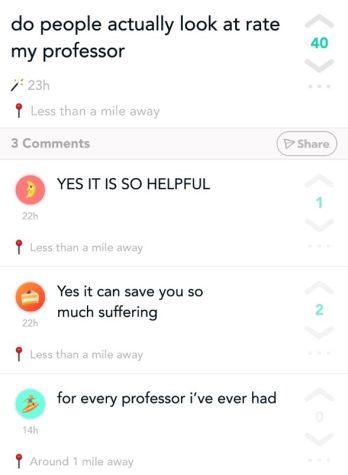 Bethany Carlson, a Classics adjunct professor at R-MC, touched on this point when she told me about her experiences engaging with the website. "College is a consumer product, and maybe it shouldn't be that way but that's how it is right now, and this a good way to get reviews of the product you're buying," said Carlson.
Carlson is one of our younger professors on campus, so she remembers using Rate My Professors when she was in college, too. It was important to her that she took good classes with good professors, and she would prioritize researching that information as she chose her courses.
This sentiment is shared by a lot of students on campus now as well, including sophomore Delaney Spiker. "I have used Rate My Professors more so to see the personality qualities of a professor—what to watch out for and how to prepare for courses with them," said Spiker.
However, several professors have shared concerns about students relying on Rate My Professors for information (and it's not just professors with bad reviews). Political Science professor Brian Turner advises that both professors and students should not engage with the site at all.
"Don't use it if you are serious about engaging with a wide range of excellent faculty members who will challenge you," Turner said.
The distortion of information on the website is a concern held by many professors on campus, and Turner is the most passionate about it. "I find the existence of this site repulsive and a distortion of the purpose of student evaluations of their experiences in courses," said Turner. "The purpose of an evaluation is to identify areas where an instructor can improve and identify those things that work well. This site serves an old purpose long sought by students to know which courses are easy and which instructors are agreeable."
English professor Jen Cadwallader spoke on the issues involving the evaluations as well.
"I think the ratings are less specific now, and capture extreme feelings about professors," said Cadwallader. "Students who submit reviews are either going out of their way to comment on a professor because they really liked a professor or really did not like a professor. The site doesn't offer a lot of middle ground."
Many students understand this problem, and when they would define their usage of Rate My Professors, a great deal of them would say a variation of the phrase, "I use it with a grain of salt." They understand a lot of the issues that Turner and Cadwallader brought up but still value the resource as a way to gain information.
Sy Napper '24 is one student who has experienced extreme reviews before. "Professors change and people vibe differently with different professors. One of my favorite professors has some pretty nasty reviews on there. I always leave a review after having a professor, especially about how they deal with virtual learning and COVID-19," said Napper.
While most students report using the site, most professors say to avoid the site like the plague. It may seem that professors and students have a very different relationship with the website Rate My Professors, but the general understanding of it is quite similar. There are professors who understand that students want a way to prepare for classes and there are students who understand the information can be skewed. At the end of the day, everyone has unique experiences, perspectives, and relationships that change the outcome of classes and overall enjoyment.