Secretariat Races Home to Ashland
Secretariat is widely known as the racehorse whose records haven't been broken in 50 years – a feat that is unheard of among athletes.  
What many people may not know about him is that he was born and raised at the nearby Meadow Farm, just a few miles north of Ashland, and his breeder, Chris Chenery, attended Randolph-Macon College. 
There are magnificent statues of the Triple Crown champion all over the world, from Kentucky to Canada, and yet there is not a single monument in his home state of Virginia.  
Kate Chenery Tweedy, granddaughter of Chris Chenery and daughter of Secretariat's owner/manager, Penny Chenery, is working to change that.  
Tweedy is part of the Secretariat For Virginia (SECVA) Committee of the Ashland Museum. The committee teamed up with sculptor Jocelyn Russell, who created the "Secretariat Racing Into History" monument to celebrate his legacy in his home state. The sculpture is currently in Ashland at Town Hall.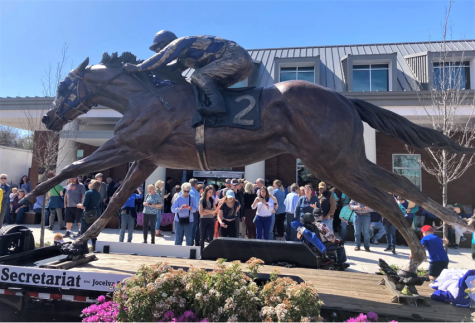 Russell put in four months of research to make sure she got everything right. She even visited his jockey, Ron Turcotte, in Canada. 
"It's like doing a portrait of George Washington. It's Secretariat – if you don't have all the measurements exact, the blue and white checkers in the exact historical position they were in when he was running… there's a lot of documentation of his winnings," said Russell. 
Leeanne Meadows Ladin, member of SECVA and former vice president of the Secretariat Heritage Center, noted how the statue had a deep impact on many spectators after it arrived in Ashland on April 1. 
"They get emotional looking at it, some people cried when they saw it. The depth of feeling that people have for this horse is just extraordinary," said Ladin. 
Secretariat retired in Kentucky, which is why there are several statues there. Most people think that he's from Kentucky, and that's part of the reason why the SECVA Committee is pushing for recognition in his home state. 
"All the statues in other states… we think that's a real oversight. Central Virginia is the cradle of horse racing… there's so much community pride in this horse. He grew up here," said Tweedy.  
Secretariat has strong ties to Ashland and Randolph-Macon, between Chris Chenery attending R-MC and Secretariat being born right around the corner.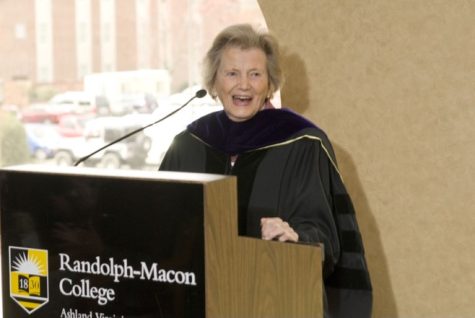 Penny Chenery, Secretariat's owner and manager, received an honorary degree from R-MC in 2011 for her fantastic achievement of managing Secretariat's career and running the nearby Meadow Farm where he was born.  
Secretariat and his family's connection to Ashland and R-MC led the SECVA committee to propose that the statue stay permanently in Ashland. Ladin felt that it would be a good way for people to learn about the champion's roots. 
"I think it would be a tribute not just to the horse and the family, but a tribute to Ashland and the surrounding area. People can appreciate what they have right there in their own town… It's not just for Ashland, it's for all of Virginia, for the horse that was born, raised, and trained in Virginia, and considered one of the greatest horses of all time," said Ladin. 
If enough funds are raised, the proposed space for the statue is on the corner of N Railroad Avenue and England Street.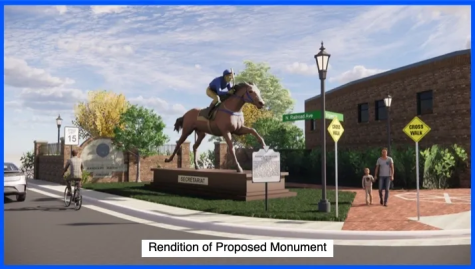 President Bob Lindgren was ecstatic about this proposal and thinks that it will be a good way to memorialize the ties between R-MC and the beloved Secretariat.  
"It helps symbolize the colleges connection to this iconic champion. When it's there, I think it's going to be thing where people say 'Oh, that's the place that has that'… the benefit of that location is that the train comes by there and hundreds of people see it every day. In my mind's eye, I see a billboard out on I-95 that says, 'See Secretariat,' that might bring people off I-95 to look at Ashland and the college," said Lindgren.  
While the statue will be a way to publicize Ashland, R-MC, and Secretariat's birthplace, Tweedy also hopes that it will be a way to continue spreading the happiness that Secretariat seemed to give people. 
"Secretariat was a force that brought people together, embraced their differences and felt positive. Having him here is a joyful thing," said Tweedy. 
The total cost of fundraising is $695,000, and $200,000 has already been raised toward the installation of the monument in Ashland.  
On April 27, the statue will leave Ashland and embark on a cross-country tour to celebrate the 50th anniversary of Secretariat's 1973 Triple Crown win. If enough money is raised, the statue will reside at Randolph-Macon College, and Secretariat will finally be honored in his home state.