Ashland vs. R-MC eSports: Super Smash Bros. Fundraising Tournament
Hope Huger, Arts and Entertainment Editor
March 9, 2022
Video gaming, which began as a simple pastime for some, is now one of the most profitable industries to be involved in. Gamers can make millions from winning gaming tournaments. Esports, (i.e. Electronic Sports), has become a competitive extracurricular activity at schools and colleges nationwide.
On Friday, February 18th, the ten players of the R-MC Super Smash Bros. team traveled to the Ashland Theatre to put their skills to the ultimate test against what could have been their most important opponent: the Ashland community. The team competed with the hopes of raising funds for the Association of Computing Machines (AMC). The $100 raised by the event will go towards the AMC's general funds, which includes the program's regional and international competition fees as well as their membership fees. AMC event organizer and R-MC student, Kaung Khant, was pleased with the fundraiser's outcome, saying "it was a good turnout with people of all ages."
A group of boys, from the ages of 11-14, were enjoying themselves and proudly advertised the fact they were able to beat some of R-MC's players. The boys are active members of their school's eSports club and after becoming aware of the event through Ashland's community Meta page, they decided they wanted some "light" practice against the Macon team. A mother cheered the boys on, commenting on having to reset her mind and appreciate her son's knack for the game.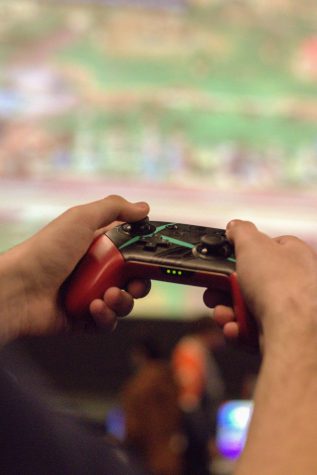 "He's always played on sports teams, but never liked any of them. He's always just gravitated towards eSports," she said. Although the boy's mother was extremely supportive, she has mixed feelings about the prospect of her son being awarded scholarships for playing video games. She stressed the importance of the balance between academics and eSports practice.
An R-MC team member that spends plenty of time practicing Smash Bros. is freshman Kieran Magner. Magner was excited to be doing what he loves out in the community as this was one of the first off-campus events for the team. Like the rest of the team, Magner was pleased with the number of community participants and spectators that came to cheer them on.
"I really felt like our eSports program was a part of the greater Ashland community, and I think it did great things for the publicity of our Smash team!" he said.
Overall, the competition at the Theatre was a success. The team, the Ashland community, and Randolph-Macon students should be looking forward to future eSports events to come!