R-MC set to host weekend events in biggest homecoming celebration since COVID
Whether you went home, stayed on campus, or traveled, we at YJ News hope that you all had a fantastic fall break and are ready to take on school until Thanksgiving break. With six more weeks remaining until the next academic break, the semester will certainly be busy, but there are plenty of activities to enjoy with friends and family during the weekends until then.
While Family Weekend sits just behind us, this weekend will be a great opportunity to gather with the YJ community and celebrate homecoming. Throughout the weekend, Randolph-Macon will be hosting various activities for all age groups to attend and enjoy including an open art exhibit in Pace-Armistead Hall, class reunions, the Homecoming FountainFest, and of course, the homecoming tailgate throughout the day on Saturday during the home game against Bridgewater College.
Listed below are the planned events for the weekend.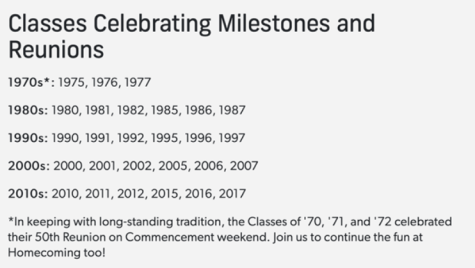 From the Office of Alumni Relations 
Friday, October 14 
"New Deal" Art Exhibit  
Flippo Gallery, Pace-Armistead Hall 
10 am – 4 pm, Free to attend 
Solo art show by ODU Art History professor and painter Vittorio Colaizzi  
Ujima Gospel Choir Welcome Reception 
FoodiO, 101 N. Railroad Avenue 
4-6 pm, Free to attend 
Ujima Gospel Choir alumni and friends are invited to a welcome reception to kick off Homecoming & Reunion Weekend. Attendees will gather at FoodiO (formerly Ashland Coffee and Tea), owned by alumnae Jamie Grant '12 and LaChelle Lewis '12 for light refreshments. 
Last Class 
Dollar Tree Room, Brock Commons 
4:30 pm, Free to attend, RSVP encouraged 
Recently retired Professor Emeritus of History, Dr. Alpine Jefferson will offer his "last class" at R-MC. Following "class," the Noë-Kilgore Award will be presented to an outstanding retired faculty member. 
Class Reunion Cocktail Party 
Birdsong Pavillion, Birdsong Hall 
6-8 pm, $20 per person, RSVP required 
30 classes will be celebrating reunions and milestones! Heavy hors d'oeuvres and cocktails will be served in the Birdsong Pavilion overlooking Day Field followed by live music and dancing at the Homecoming FountainFest. 
Keeble Observatory 
Copley Science Center 
7-9 pm, Free to attend 
Weather permitting; Students will be on hand to show you the stars. 
Homecoming FountainFest 
Brown Fountain Plaza 
8-11 pm, Free with Cash Bar and Food Trucks on site, RSVP encouraged 
Live music will be provided by Vinyl Headlights, a Rock, Pop, and Dance music band specializing in music from the 60s to today. Open to all Randolph-Macon supporters! 
Saturday, October 15 
Campus Store Open 
Brock Commons (9 am-5 pm) 
Stop by to visit with Barclay and purchase new Lemon and Black attire before heading over to the game and the Alumni Big Tent Party. 
Macon Mimosas 
Homecoming/Reunion Tent, Tailgate Lot next to Brock Center 
9-10:30 am, $10 per person, RSVP required 
Come to the Homecoming Reunion Tent to visit with members of the Society of Alumni Board, meet the Office of Alumni Staff, and meet up with friends! A variety of mimosas and light breakfast options will be available.  
Walking Tour of Ashland 
Meet at Brown Fountain Plaza 
10-11 am, Free, RSVP required 
Join Rosie Shalf '78 of The Ashland Museum to enjoy a walk along the tracks and learn about the history of the town that R-MC has called home since the college opened its doors more than 150 years ago. Please wear comfortable walking shoes and arrive by 9:15 am. 
Ink, Fire, Beauty Book Signing  
Outside of the Campus Store, Brock Commons  
10-12:30 pm, Free to attend 
Jordan Renee Chappell '20 will be signing copies of her book, Ink, Fire, Beauty, an immersive fantasy tale Inspired by centuries of Chinese history and culture that draws readers into an ancient world where a gifted young painter uses ingenuity and determination to challenge the power of a corrupted Empire. 
Class Reunion Photos 
Homecoming/Reunion Big Tent, Tailgate lot next to the Brock Center 
10:30 am, Free to attemd 
Class Photos will be held at the HQ Tend for those celebrating class reunions. Nathan Landers '16, head brewer for Center of the Universe Brewing Company, will be serving commemorative beer in honor of the 150th anniversary of Washington-Franklin Hall. 
Kirk Kirkland Memorial Bench Dedication 
Brown Fountain Plaza (Rain location McGraw-Page Library) 
11 am -12 pm, Free to attend 
Friends, family, and brothers of Kirk Kirkland '91 will gather to dedicate a memorial bench. 
All are welcome. 
150th Anniversary of Washington-Franklin Hall 
Franklin Room, Washington-Franklin Hall 
12-4 pm, Free to attend 
Celebrate the 150th Anniversary of Washington-Franklin Hall, the oldest brick building on campus. Refreshments will be served with a viewing of photos from the R-MC archives while enjoying refreshments in this historic space. 
Multicultural Alumni Reunion Kickback 
Dalton House, 303 Caroline Street 
4-6 pm, Free to attend, RSVP required 
Join members of the Multicultural Alumni Association Board and keep the celebration going. This event will include a Dj, light snacks, wine, beer, and other beverages 
Homecoming Tailgates 
Homecoming/Reunion Big Tent 
Tailgate Lot next to the Brock Center 
11 am – 3 pm, RSVP encouraged 
Meet your friends and reconnect with former classmates at the Big Tent! This will be "REUNION HQ" for those celebrating class reunions and milestones. 
Light snacks will be provided with beer and wine available for purchase. 
Affinity Tailgates 
Smith Tailgate Lot 
11 am –  3 pm 
Various departments and teams from Randolph-Macon will be hosting tailgate spots and competing for the prize for the most spirited throughout the Smith Tailgate Lot. 
Sunday, October 16 
Ujima Gospel Choir 
Old Chapel, Room 114 
9-10 am, Free to attend 
Ujima alumni will be hosting an open practice in Old Chapel which the Randolph-Macon community can join to listen to singing and the impact of Ujima in college. 
Randolph-Macon IHSA Horse Show 
Randolph-Macon Equestrian Center, 12214 Ashcake Road 
10 am – 3 pm 
Join the Randolph-Macon Equestrian Team in hosting various teams from Zone 4 Region 4 under the Intercollegiate Horse Show Association at our own Equestrian Center! Various hunt-seat divisions will be competing throughout the day.